Ideal for all activities
We are located in the heart of Málaga, next to Calle Larios, the most majestic shopping street in the city, very close to all of the city's attractions. The Muelle Uno shopping complex, the new Port of Málaga and La Malagueta Beach are all just a short walk from the hotel.
Information of interest
Address: c/ Sancha de Lara 9, 29015, Málaga, Spain
36.718913º

36º 43' 8.0868" N

-4.420824º

-4º 25' 14.9664" W
And also… the beach!
Málaga is home to stunning beaches that you can enjoy during your visit. From the hotel, you will be just a few minutes' walk away from La Malagueta Beach.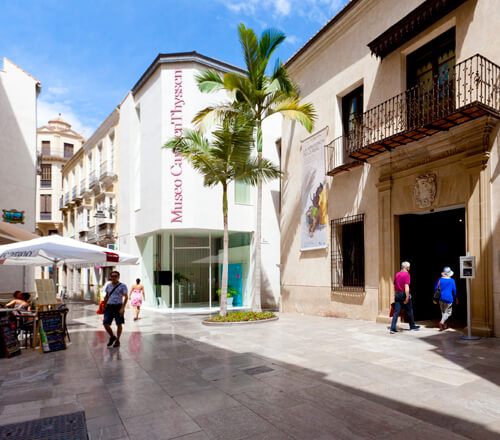 Local culture
The hotel is surrounded by historical and cultural places. The cathedral is just a stone's throw from Hotel Don Curro, as are the Picasso Museum (with more than 300 works of art by the artist), the Carmen Thyssen Museum, Centre Pompidou and the Roman Theatre.
Also, do not forget to enjoy a glass of moscatel in the famous Pimpi Restaurant or to visit the Atarazanas Market to discover all the different varieties of fish and fruit which the Málaga coastline has to offer.
Distances from the hotel
Plaza de la Constitución: 150 yds. – 1 minute
Calle Larios: 100 yds. – 1 minute
Roman Theatre / Alcazaba / Gibralfaro: 200 yds. – 2 minutes
Albéniz Cinema: 200 yds. – 2 minutes
Picasso Museum Málaga: 300 yds. – 3 minutes
Atarazanas Market: 400 yds. – 3 minutes
Carmen Thyssen Museum Málaga: 500 yds. – 6 minutes
Cervantes Theatre: 500 yds. – 5 minutes
Museum of Fine Arts and Archaeology, Palacio De La Aduana: 500 yds. – 5 minutes
Muelle Uno / La Malagueta Beach: 500 yds. – 5 minutes
Centre Pompidou: 800 yds. – 8 minutes
Russian Museum Collection – Automobile Museum: 2.1 miles – 35 minutes